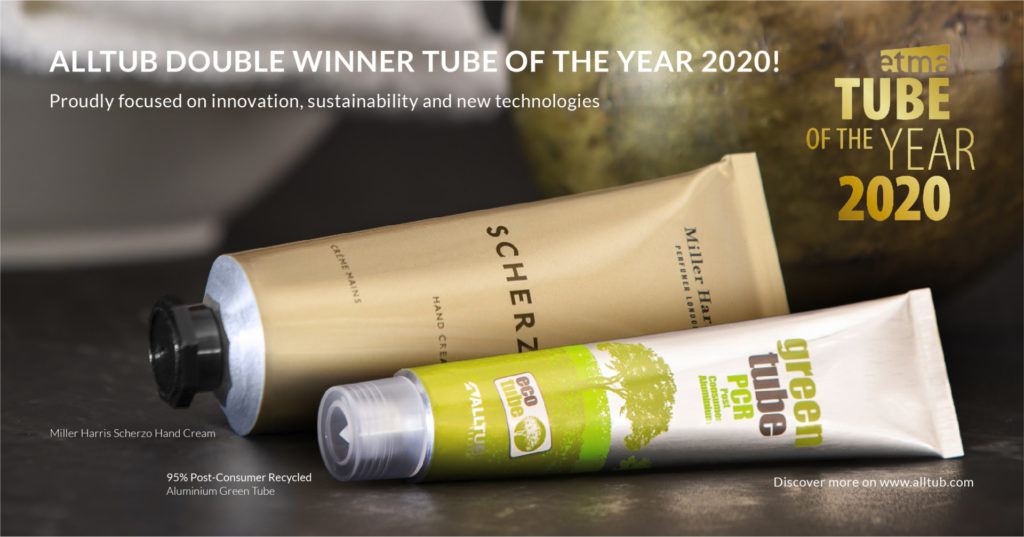 The ALLTUB Group is proud to be a double winner of the ETMA Tube of the Year awards 2020: The Green Tube, made of 95% PCR aluminium, and the Miller Harris Scherzo hand cream aluminium tube.
The Green Tube made by ALLTUB Italia, and available at all Alltub plants, is made of 95% post-consumer recycled (PCR) aluminium. Aluminium tubes are already 100% recyclable and infinitely recyclable, producing tubes from PCR aluminium closes the loop making the tubes both recycled and recyclable! Producing the tube from PCR aluminium does not impact the feel, look or performance of the tube in any way, the tube perfectly meets customers' requirements whatever the product; hair dye cream, skin cream, toothpaste, mayonnaise, or pharmaceutical topical creams for example.
Many brands are turning to more noble, recyclable and environmentally friendly materials. This is the choice made by the UK luxury brand Miller Harris for their 75ml Scherzo Hand Cream, by selecting an aluminium tube.
The hand cream composition is filled in a metallic gold glossy aluminium tube produced by ALLTUB FRANCE, with retro-style black octagonal caps. The combination of the gold base lacquer and fine black text printing provided Miller Harris with the luxury look they were seeking for their Scherzo range.