Aluminium sealant cartridges are produced in Saumur, France and are dedicated to various industries (Automotive, Construction & Public Works…). They are especially used for mastic, polyurethane glue, hybrid polyurethane. Aluminium cartridges fully protect the contents and are 100% recyclable.
ALLTUB France is among the world's leading producers of aluminium cartridges and offers a wide range of products with a standard diameter of 46.8 mm x 215 mm and a large selection of threads (M15x250, M15x150, M20x250, M20x150, M22x200).
Thanks to the innovative printing techniques developed by ALLTUB, our aluminium cartridges can be printed in six colours as well as offering superimposed printing. We also provide other technical options such as safety warning triangles (tactile marks) in addition to various internal finishes (alkaline cleaning), as well as rolled edges, flanged edge, straight edge.
We also supply all the accessories to go with the cartridges.
DOWNLOAD THE TECHNICAL DATA SHEET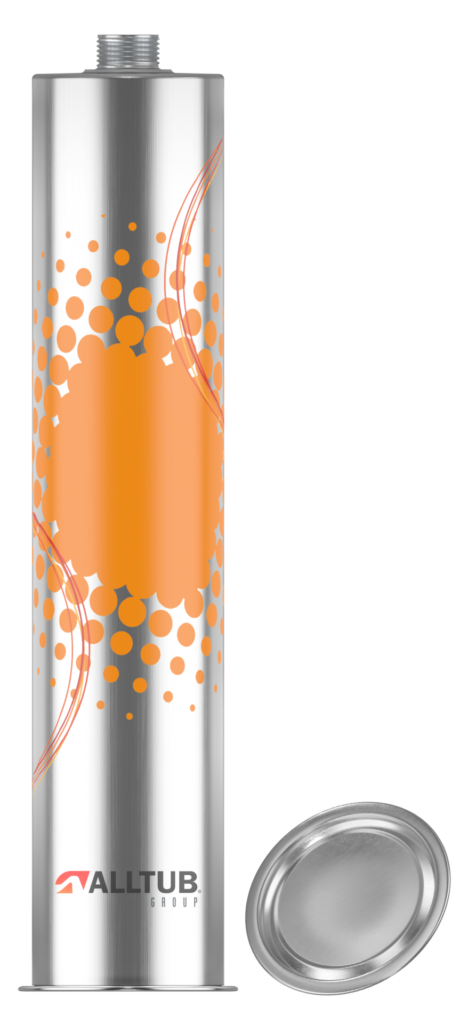 Standard diameter 46.8 mm x 215 mm.
plastic nozzle,
plastic nozzle with ring,
plastic plunger,
aluminium plunger,
aluminium cover plate without ring,
aluminium cover plate with easy-open ring.